The California Institute for Telecommunications and Information Technology (Calit²) has built a new type of CAVE, the third generation is a diamond shaped CAVE !
It was conceived by Tom DeFanti and Daniel J. Sandin (with others, see at the end of article), creators of the first CAVE, with 5 sides and each side has 3 screens. If you add the floor, it makes 16 screens !! (Nice video)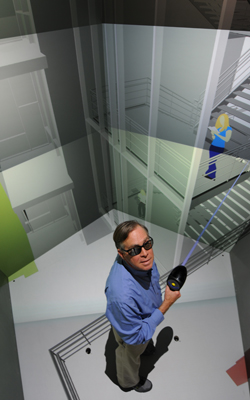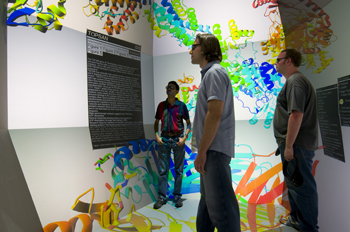 The room operates at a combined resolution of over 68 million pixels – 34 million per eye – distributed over 15 rear-projected walls and two floor screens. Each side of the pentagon-shaped room has three stacked screens, with the bottom and top screens titled inward by 15 degrees to increase the feeling of immersion

(…)

At less than $1 million, the StarCAVE immersive environment cost approximately the same as earlier VR systems, while offering much higher resolution and contrast.

(…)

Among the VR room's other features, it is wheelchair accessible, and it was designed to withstand earthquakes. One of the StarCAVE's five walls (along with its six projectors, three screens and three computers) rolls back on steel rails to provide access for users into the space, and the wall rolls back into place to provide the full 360-degree, immersive VR experience.

(…)

A research paper about the design and construction of the StarCAVE appears in the current issue of the Elsevier journal, Future Generation Computer Systems (FGCS), and is available online at ScienceDirect. DeFanti's co-authors on "The StarCAVE, a Third-Generation CAVE and Virtual Reality OptIPortal," include Calit2's Gregory Dawe, Jurgen P. Schulze, Peter Otto, Javier Girado, Falko Kuester, Larry Smarr and Ramesh Rao (all at UC San Diego), as well as Daniel J. Sandin of the University of Illinois at Chicago's Electronic Visualization Lab (EVL), and Javier Girado (now at Qualcomm, Inc.).
Appart from regular high-end research, it seems they also want to improve everyday life applications (like e-mail) usage in a CAVE!
http://www.youtube.com/watch?v=5JrEk8UldJg