My name is Sébastien Kuntz (aka 'Cb' or 'CbWan'). I'm currently living in Paris, France.
My goal is to provide the most immersive VR experiences to everyone, which means creating tools and applications and using the best hardware for the task, from high-end to low-cost. I truly believe VR can change the world, and it has already started.
Do I like VR?
- I'm the founder of MiddleVR (formerly " i'm in VR ", a company focusing on Virtual Reality services and tools, such as MiddleVR SDK (for Unity).
- I have created the VR Geeks association, which aims at creating cheap VR experiences.
- I'm a board member of the French national VR association AFRV.
- I have been teaching introductory VR classes at INSA Rennes and EFREI engineering schools, and at the  game designers school ISART Digital and ICAN.
- I have worked at Virtools / Dassault Systèmes with David Nahon, as the lead Virtual Reality engineer for four years.
- I have also worked four years on a VR Engine and two VR Simulators with a high level of interactivity (FIACRE and SIMURAT) at SNCF (french railways), with Philippe David. Both simulators won a Laval Virtual Award.
- In 2010 I have co-chaired the first 3D User Interfaces (3DUI) Grand Prize (see the results, the CG&A coverage).
Major Conferences / Academics
- SVVR 2015: Multi-user Professional Applications for VR
- IEEE VR 2015: Panels: "What's new in VR?" , "Where is VR consumer market heading at?"
- Oculus Connect 2014 (#OC1): Professional VR applications
- IEEE VR 2014: SEARIS Workshop Keynote
- IEEE VR 2013: Panel: "The Future of Consumer Virtual Reality" (with Jason Jerald, Palmer Luckey, David A. Smith and Amir Rubin),
- VRST 2012: Keynote: "Improving the VR experience, from the authors to the users",
- JVRC 2012: Panel "Game Engines vs. VR APIs: Pros and Cons for VR Application Development" (with Carolina Cruz-Neira, Dirk Reiners, Perdo Morilla and Roland Blach),
- IEEE VR 2012: Paper at the "Off-the shelf VR workshop": "Low-cost and home-made immersive systems: For home or for work", with Jan Ciger,
- Committee member VRIC 2010 – Displays of the near future,
- IEEE CG&A 2010 article: 3DUI 2010 Contest Grand Prize Winners,
- I have also organized workshops at the AFRV 2011 and AFRV 2009 conferences concerning VR democratization.
Personnal
In real life I enjoy photography, sport (climbing, street hockey, freefall.. ), going to concerts and way too much other things.
You can write to me on my email, which is located on the top left corner of this page.
About this blog
In this blog you'll find information related to (immersive) Virtual Reality and how it is *really* used, immersive environments, 3d interaction, and stuff for geeks.
You should start by reading The State of VR series of article which are an up-to-date introduction to what people are doing with VR. You can then check out some interesting articles from the archives of this blog.
You can subscribe to the newsletter, which just sends a summary of recent articles, and follow me on twitter : @SebKuntz
What is VR ?
Here's my definition.
In a SAS3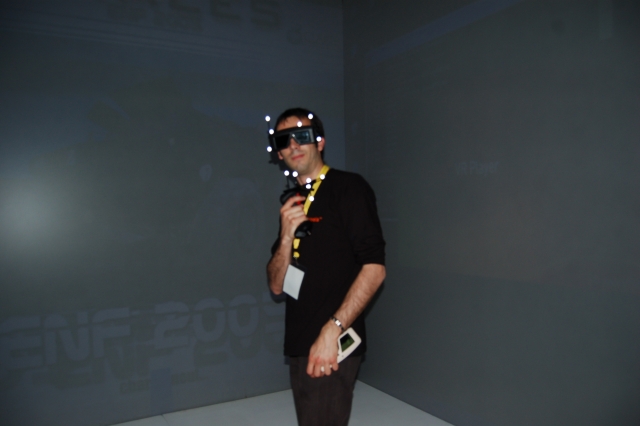 The Simurat simulator (with Philippe David)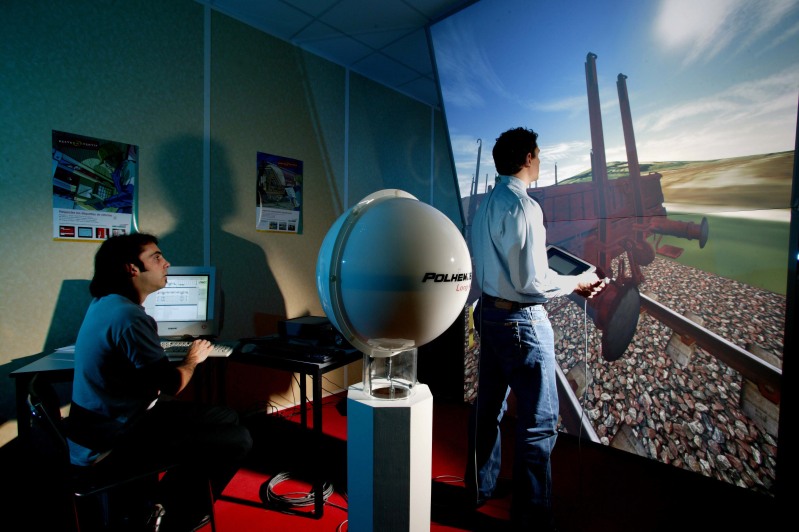 In La Geode with David Nahon