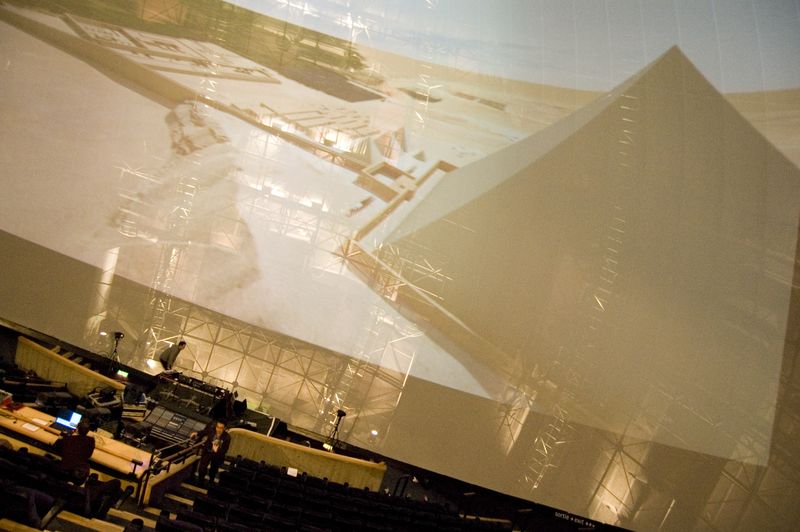 Dassault Systèmes (who owns Virtools who I work for) is running a challenge called "VR Experience" to produce content for La Geode, the biggest VR screen!
You could win a BARCO stereoscopic projector worth 75,000 euros and 3DVIA Virtools licenses
The application has to be made with Virtools, with some guidelines to have it run both on the web and on VR screens.
The deadline for submission of projects registration (ie not the application) is September 12 2008.
That's a great way to get recognition of your work and have lots of fun !!
Topics
Original, fun and/or educational with a strong interactive dimension, the projects can deal with any of the
following topics:
– History and civilization: A concept based around TROY or the Palace of Versailles is encouraged
– Science and technology: Open
– Human adventure: Open
– Anticipation: Open
– Nature: Open
– Great discovery: Open
Schedule
From the competition rules :
Phase 1
May 22 to September 12, 2008 – Creation of the team

Project write-up / Storyboard / Technical specification / Submission of application pack

Preselection of 10 projects that will receive 3DVIA Virtool licenses, 1,500 euros
per project and, in order to complete 3D tests, access to La Géode as well as to the virtual reality projection rooms of Dassault Systèmes (France) and BARCO (Belgium).

Phase 2
For the 10 preselected projects – October 1 to March 2009

Creation of a pilot using 3DVIA Virtools for broadcast online and in a virtual reality environment.
Presentation of the pilots in front of the jury in March 2009.
Award of prizes to the 3 winners
(provision of software, equipment, bursary, with an overall budget of about 75,000 euros) at Laval Virtual 2009.