VisonaiR 3D is a company from the Netherlands, founded by Maarten van Grinsven in 2000.
Their goal ?
"From the start of forming my company I had the goal to bring VR  to the general public (instead of Universities, oil & gas, military) and in reach of "normal" businesses like real-estate agents, project developers and marketing companies."
Yeah, "VR For All" as we like it here =)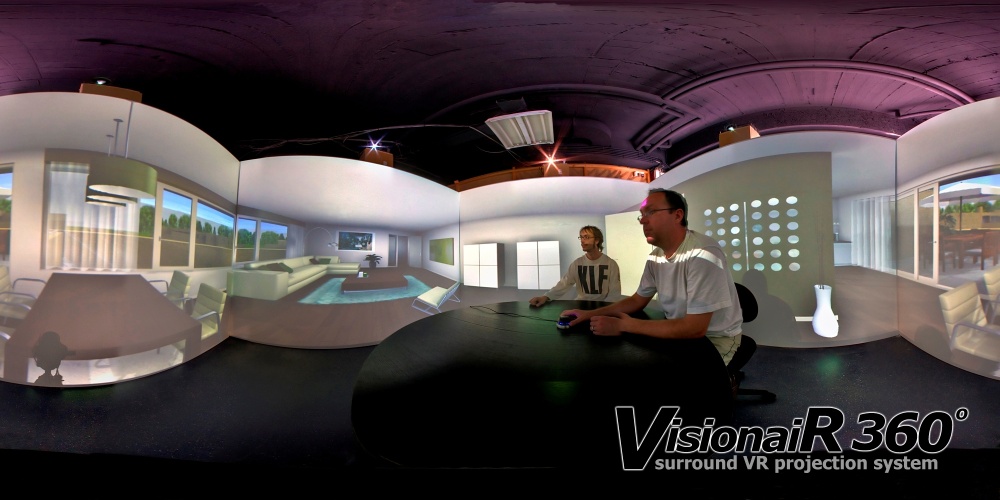 Panoramic view of the VisionaiR 360°
Their latest product is the VisionaiR 360°, a cheap Cave-like system without any tracking. Check the video to get the idea.
"The VisionaiR 360 was designed for users that have little to no experience with VR, this way anyone can use it.

The VisionaiR360 is a turn key system; the software is designed specially for the hardware and requires no knowledge from the user to start or operate, other than selecting a virtual reality presentation from a menu. The 360 degree system has many practical advantages over desktopVR :
– Easy navigation, (just turn around the table and move the joystick the direction you want to go.) No additional explanation needed
– Keep your orientation during a presentation
– Feel immersed, it's like you are really there! "
Maarten was kind enough to answer some questions :
– What's the price range of this product ?
I don't have a sale price at the moment, But I'm working on it. I will know more about this in about a week or 2. We are trying to make it cheap enough to bring cave systems in reach of a whole new market. Renting price will be around 150 euro a day (with a minimum renting time for 4 months). At the moment it will only be avalible for rent in the Benelux and germany. Sales worldwide.
– How much time does it need to be  setup ?
It will take us 2 days to setup the system, and we will need a room that's 4×4 meters and 2.30 meter high.
– What kind of software are you using ?
 The software we use is Quest3D and we develop our own applications for the VisionaiR360 to deliver a turn key solution to our customers. We develop the
VR applications in combination with architectuurproducties which is a Dutch company specialised in making 3d models.
– Do you plan to have it evolve, with stereoscopic displays and 3d trackers?
Yes there is room for a lot of improvement. but keep in mind that this system was created specially for people that have no experience with VR and
that we use our VR a lot for product presentation in the sales sector (usually we try to sell houses that still have to be built). Too much
immersion is sometimes too much.

I have a lot of experience with VR systems. And I know that Stereoscopic images and headtracking can be "stressful" for the inexperienced user. The
fact that this system doesn't use a tracking system makes it less bound to a single user experience. when seated down people will automatically be in or
near the "sweet spot". The system is still impressive but not overwhelming for the user.
But don't get me wrong, there will be a HD version and a stereoscopic version coming at a later time.
– From the video it seems the calibration is a bit loose on the seams, can you improve on that?
Calibration is loose but this will improve as soon as we will use software to extra calibrate the projectors. you could also  loose all the distortions
if you would have a 6×6 meters wide room and use different projectors, making HD and stereoscopic a possibility. I will leak more info about these
systems when they will become available.
– How did your company start?
Wow now that's a big one.
Well in 1998 I dropped out of school when I was 19 years old to start  working for a game development company in Belgium called Larian Studio's. I was using shutterglasses and the Iglasses HMD as a hobby then. Then QuakeIIIArena came out and I thought computer graphics where ready for realistic VR.  In the year 2000 I started my own company called VisionaiR 3D.

I sold Stereoscopic projection systems to the university of Leuven (Belgium) and the university of Zürich (Switzerland). From the start of forming my company I had the goal to bring VR  to the general public (instead of universities, oil & gas , military) and in reach of "normal" businesses like real-estate agents, project developers and marketing company's.

To do this successfully I knew I had to deliver a complete system of both software and hardware combined with the presentation of the VR software itself. I created a transportable 3D projection system and toured around the country for a couple of years (actually I still do this). At the moment I'm even selling 3D projection systems to real-estate agents, they use VR on a
daily basis.

Our software usually uses a typical quake style mouse keyboard combo control scheme. This is easy to learn but a lot of people that want to buy a house
at the moment are not so familiar with playing 3D shooters. They can use the mouse to look around and they can move the camera position with the
keyboard, but inexperienced users have a hard time controlling both at the same time.

This is why my latest system the VisionaiR360 uses a different setup like normal cave systems. by creating a 360 view of the environment, the user no longer has to focus on camera rotation (they just rotate themselves, and keep their orientation in the VR environment) and only have to deal with camera position (forward, backwards and strafe left right) making the software more easy to use.

When the system is not rented it is available to the public in our new showroom in Tilburg (The Netherlands)
So if you pass near Tilburg, you know where to go!
Thanks to Maarten for taking the time to answer the interview.