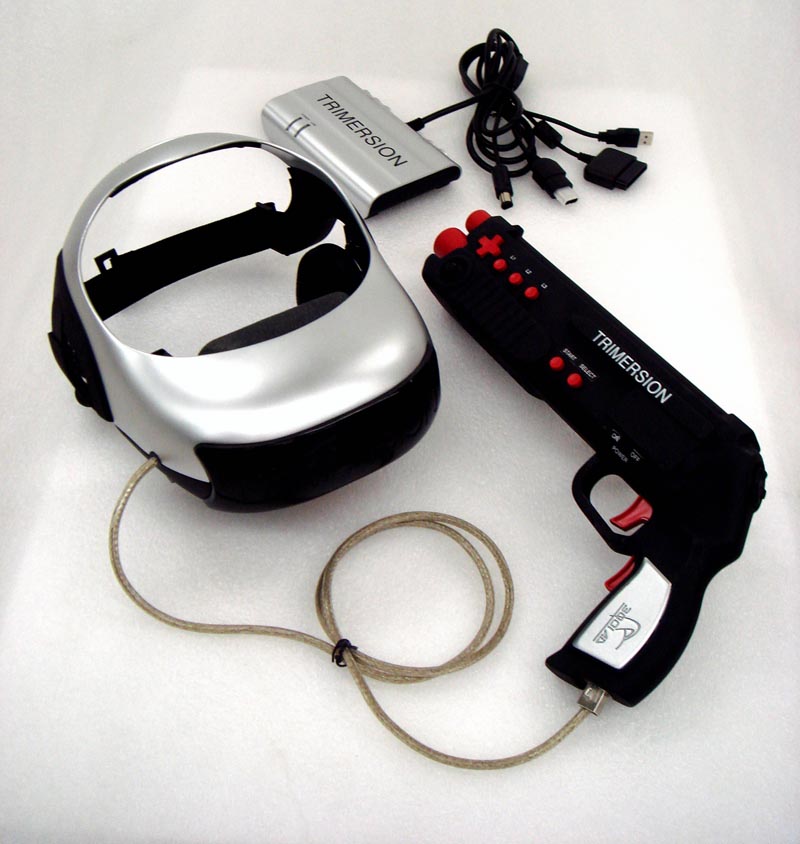 [Update Oct 2008: The company seems to be dead now…] [Update Oct 2009: Worse, they are now being sued by their investors !!
See comments
]
When I learned that eMagin increased their prices, I went back to look for other consumer HMDs. I contacted the makers of the Trimersion to know more about their tracking options.
Bob Ladrach, President and Chief Operating Officer of 3001 AD, makers of the Trimersion, answered me. He's quite a VR geek too as you'll see 😉 He shares his insight about the beginnings of the HMD and his thoughts about VR …
The origins

Best place to start is at the beginning.

The Trimersion isn't a clone of existing visors. It evolved out of lots of trial and error developing prototypes, attractions and arcade games since 1994. Back then the least expensive HMD was $12,000 and was way out of my range. I put my own system together trackers, computer, HMD and input device for $3,000 with the help of a local businessman. The system was called Virtual Knight and ran on REND386 (one of the earliest open source VR toolkits).

The HMD was over 3 pounds and used a Logitech Red Baron ultrasonic head tracker and a modified power glove. The system allowed you to freely walk around in a 10ft. area and a virtual sword was attached to a plastic hilt. A knight in the center of an arena would swing at you if you got too close. Pretty simple but as a proof of concept, right on track.

Virtual Knight sat for a few years as I knew it would take significant funding to create a better version.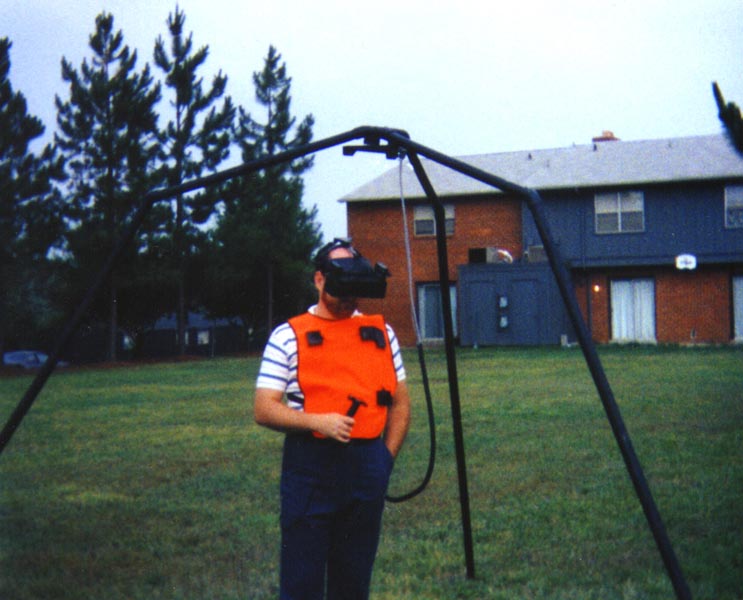 – Bob Ladrach testing the first VR system Virtual Knight in 1994 –
In 1997 I met Jimmy Barker, a venture capitalist and we shared a common vision about VR. We started 3001 AD in 1998 and began producing attractions called "Beta Zones" which were designed to be mini Disney Quests but on a much more realistic budget. We created 5 different virtual experiences that used V4 and V6 HMDs and Polhemus and Ascension trackers. The cost of the units was high and required many custom components.

As time passed it became more apparent that the cost of maintaining and updating hardware was prohibitive. People also tended to abuse the equipment. We began creating more durable hardware and simpler computer interfaces that made it easier to repair.

We developed a keyboard encoder interface with a tethered joystick controller. Even the tracker was re-designed using gyro technology to simplify and reduce the cost of the machines.

We began selling arcade systems with fairly few internal components and had finally reached the point where the entire VR system was not much more than a mini computer, HMD and input controller. The arcade systems at the time were selling for $15,000.

The arcade industry at the same time was declining. We decided to condense all of the technology into a single peripheral that would work with FPS games on the user's own platform. This reduced the basic cost of the equipment and eliminated the software shelf life issue all together.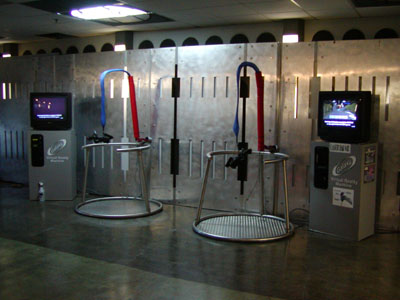 About eMagin and the evolution of HMDs

When we went to E3 in 2005 our price was $595 and emagin was $895
E3 2006 we dropped our price to $395 and emagin dropped theirs to $595

Don't know if we had anything to do with it but it was kind of funny.

emagin is the closest product IMHO

I do believe it is not a good idea to increase retail pricing. We had to make some hard decisions in the optics on the Trimersion. Originally we rolled out QVGA LCDs. Our focus groups didn't like it. We went up to VGA (640 x 480) and everything seems cool. Even though our cost per unit went up, we feel it was worth it to make the best product we can for the price. We could have increased the rez even further but we tempered every choice by the primary goal; to create a VR peripheral that would be in the price range of most high end gamers. The second goal was to make it easy to use and setup.

The Trimersion is also a very focused product designed for FPS gamers, not for watching movies, iPod or working on spread sheets. This allowed us to tailor the controls and functionality for typical FPS play and at the same time generic enough to work on most gaming platforms.

We have had many questions about 3D. While I love 3D HMDs most game consoles can't display it. PCs can but primarily with a specific card and driver that can sometimes be a real pain to configure.

I thought it was interesting that in the first Virtuality game systems the HMDs were stereoscopic, when the second generation systems came out they also had gone monoscopic.

VR has gone through so many ups and downs. Public speculation was nuts in the early 90's and some promising technologies popped up. When the first systems came out at $60,000 each and didn't create the experience people expected, public interest wained and eventually VR became a bad word in some circles.

Most VR related companies are gone. HMDs have become video visors (essentially TVs strapped to your head) and the expectation of immersive environments has faded.

But quietly in the background the issues that plagued VR such as PC speed, software, component cost and innovation were being solved. VR arcade game design had stagnated and the POD concept still remains. (Keeping a player stationary with a waist high ring) I still remember back when I was developing Virtual Knight and other forum members were worried about letting a player walk around. Turns out most people don't walk that much anyway.

VR has to reach a design culmination. Something that incorporates all of the innovations that held VR back. Once you can achieve the same quality (or better) in a VR game at home as the best theme park and arcade systems offered, then we reach the first milestone. This sets the baseline for new development and wraps up the loose ends from previous attempts. From here we can expand the concept of VR into new areas that are emerging rapidly.

VR was the first step and we are on the verge of incredible products that won't just be game devices but will touch many diciplines.

We are already protoyping some of these devices and from what I've seen so far, we're in for a ride.

As far as the V6 I think I still have 20 or so of them here in various states of inoperability. I used to pay $500 min a pop to have them repaired and had to start fixing them myself, I can strip a V6 and put it back together in a half hour now. Great skill but for what purpose? I agree with you on comfort and design, if you look at the Trimerison it has many of the features of the V6 and is just as comfortable.
Here's some more information about the HMD…
The Trimersion HMD

Here's a video of people playing with it. A bit static compared to Atrium, but as the head position is not tracked, moving is useless.
The Trimersion works on the PC as a mouse and keyboard through a USB connector. It doesn't replace the mouse or keyboard but works in tandem. The gun controller is setup with Quake controls as default but can easily remap other games. The two triggers are assignable to favorite commands.

On Xbox, playstation and game cube control is through the game controller input. The gun has all of the buttons on standard gamepads. The mouse look is controlled by the head tracker in the HMD and can be assigned to either the left or right analog joystick with the flip of a switch.

The HMD has two 640 x 480 LCD displays, stereo over the ear headphones and a comfortable strap on the back.

The tracker is two axis measuring pitch and yaw, just like mouse look in an FPS game. Movement is with either the left or right analog joystick on the gun controller. [Cb's note: the gun controller is not tracked in any way, it's just buttons]

The HMD and gun controller has a wire connecting the two, they run on four double AA batteries for about 2 hours per use.

Video is sent from the PC or game console to the base station and then transmitted wirelessly to the HMD. The gun controls and tracking are sent back to the base station which is plugged into the game controller port or USB. Power for the base station comes from what it's plugged into requiring no AC outlet.

A/V and Controller are transmitted at 2.4 GHz. With clear reception the range is around 15 feet.

The Trimersion is designed for FPS games but could be used for other purposes.

The price is $395 it is in production now and the first units are being shipped now.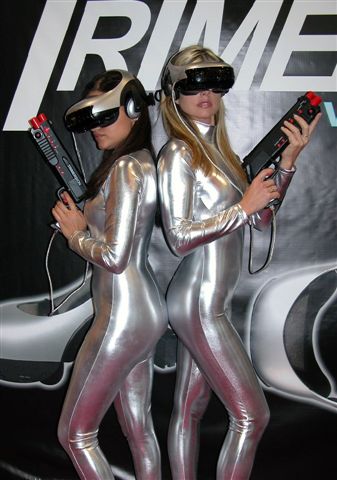 – If you buy two Trimersion, you'll get the babes –