The DLP 3D technology is reaching mass market!
This ZDNet article says that those TVs "which uses DLP-based rear projection and ranging in price from $1499 to $4500".
Moreover, Mitsubishi is planning 3D Blu-Ray player for early 2008.
From the DLP official site :
DLP® 3-D HDTV System Requirements:
• A DLP® 3-D Ready HDTV offered by either Mitsubishi or Samsung
• VESA compatible LCD shutter glasses and sync signal transmitter
• Video or graphics source which shows 3-D pictures using DLP® HDTV 3-D format.

Advantages of DLP® 3-D HDTV technology

– The DLP® 3-D HDTV technology supplies a 60Hz frame rate signal to each eye (equivalent to 120 Hz).

– The technology has a virtually zero implementation cost on new DLP® HDTV, benefiting consumers with a future proof capability.

DLP® HDTV 3-D Image Format


3-D stereoscopic video content is sent to the TV digitally, through an HDMI or DVI port. Left and right stereo images are independently filtered, then sampled in an offset grid pattern. The resulting views are then combined, and appear as a left and right checkerboard pattern in a conventional orthogonal sampled image. This format preserves the horizontal and vertical resolution of the left and right views providing the viewer with the highest quality image possible with the available bandwidth.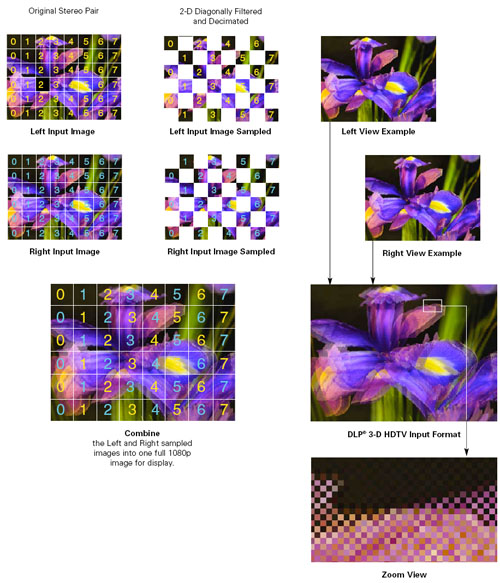 This whitepaper has more information about the image format.