Then after two days of 3DUI, Searis, PIVE and workshops was the actual IEEE VR Conference.
For four days the weather was rainy and cold, and finally on the last day the sun woke up and gave us a nice blue sky and a pretty decent temperature! (which we will maybe get in Paris in one or two months.. )
For those of you who couldn't attend the conference, you can access a lot of the presentations that were given, for free !! Not the actual papers though, but you can still ask the authors 😉 Thanks to the VGTC for enabling this !
Read after the jump for a lot more!
Keynote speak
See this post.
Awards
See this post.
> Conference <
Projection
The UNC presented an interesting paper called "A distributed cooperative framework for continuous Multi-projector pose estimation" by Tyler Johnson, Greg Welch, Henry Fuchs, Eric La Force and Herman Towles. By using "smart" projectors (with a camera and a computer) that are able to understand their relation to each other, the system is able to automatically recalibrate the projection.
Tracking
The most unexpected and amazing paper was "JanusVF: Accurate navigation using SCAAT and Virtual Fiducials" by Malcom Hutson, Steven White and Dirk Reiners. They're using AR markers inside a 6-sided CAVE to track the user precisely. The user wears a camera on his head looking behind him at the markers. The trick here is that the markers are displayed by the computer, drawn only behind the user ! When the user rotates, some markers are removed and new ones are added on his back. See the video after 9mins :
The advantage of this technique are that there is no visible element obstructing vision, no permanent hardware required for tracking, and no special or expensive hardware.
The downside of course is that you have to wear a laptop and a camera on your head.
It seemed to be pretty robust and stable. If I'm not mistaken, they announced a 60ms delay when compared to a wired IS-900.
Augmented Reality
Several interesting papers on this hot topic :

"Virtual Heliodon: Spatially AR for Architectural daylighting design" by Yu Sheng, Theodore C. Yapo, Christopher Young, Barbara Cutler. By using a physical mock-up of a room and projecting a realistic lighting on it you can evaluate the result of your design. You can physically move the walls and see the result in realtime!
IBM also showed a really interesting use of Second Life to help people IRL (In Real Life) in "Exploring co-presence for next-generation technical support" by Sinem Guven, Mark Podlaseck and Gopal Pingali.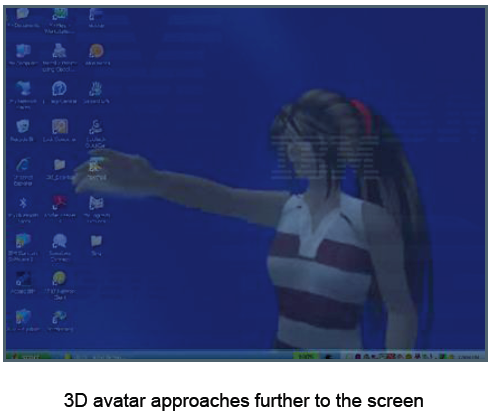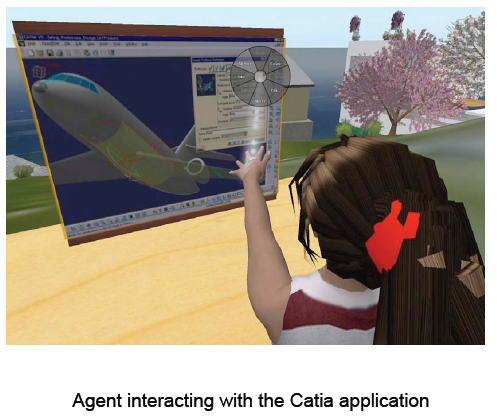 "Automatic Creation of Massive Virtual Cities" (paper) by Charalambos Poullis and Suya You, has great results about reconstructing large-scale 3d models from LiDAR data. If you're interested in this topic, watch the video =)
Rob Lindeman show to a captivated audience the World Builder video :

World Builder from Bruce Branit on Vimeo.
Tradeshow
On the tradeshow floor, we could see a spherical remote-controlled robot :
An improved, much lighter Sensics piSight :
The Globefish :

Oh and the LITE also have a 3rd generation Omni-Directionnal Treadmill :
Conclusion
As usual this was a very intense and great period.. Attending the conferences, holding the booth and meeting so many great people.
There were no incredible innovations, more a consolidation and a broadening of the field.
If you haven't seen it already, here's a small interview of Jaron Lanier stating that doing VR is the coolest job on earth (who doubted it anyway??) :
Hopefully, see you next year in Boston 😉
(Or next week in Laval!)
Here are some pictures I took while travelling around Louisiana after the conference :